Welcome to the MC Rocket website. My name is Michael Caine, owner of the M.C. Rocket Lure Co., located in Belleville, Ontario, Canada. Simply put, an MC Rocket is a durable, 100% tuneable, glow-in-the-dark artificial herring strip, designed to imitate an injured baitfish. Originally developed for use on Lake Ontario, targeting chinook salmon, the MC Rocket has proven equally effective on cohos, steelhead, browns and lakers.
Since catching my 1st king in 1982, I've logged thousands of hours chasing my passion, enjoying every minute. Like many other fishermen, we all have our favourite baits and mine were a RAC Super Glow Michael Jackson during low light conditions; and then an anchovy later in the morning.
My preference for anchovy over herring strips was due to more control of your presentation, which is critical. And it's hard to argue with "If it don't glow, it don't go" theory. It's dark down there. My perfect bait would be a glow-in-the-dark anchovy. Not possible.
At least not until the MC Rocket was developed: the action of an anchovy plus the glow and colour of your favourite spoons. Theoretically, it should work. But would it? And how did I do it?
I developed a plan and on Jan. 1st, 2006, my adventure began. After many months with numerous design and production problems overcome, the first MC Rocket was born June 1st, 2006. But would it work like I hoped it would? Lots of apprehension.
I didn't have long to wait. The annual C.L.O.S.A. (Central Lake Ontario Sport Anglers) Invitation Salmon Search was in two weeks.
Fishing aboard Grand Slam (the official Rocket test boat,) along with Capt. Al VanDusen and Don Forester - both experienced charter boat operators - we left Wellington Harbour by spotlight. After a 10 mile trip, we were ready to set up:
Glow spoons on 2 lead core off the outriggers
Spin Doctors and flies off 2 Dipsys
2 riggers (my job) – a Michael Jackson Super Glow RAC on one, and an MC Rocket behind a large Hot Spot on the other
After only 15 minutes my rod popped. What a relief! It was only a 6lb king, but the Rocket worked. By the end of the day, we had 20 rips - 14 off one rod rigged with a Rocket. True story.
Day 2 was only a half-day. We had 10 hits – 8 off Rockets. Although we had caught more than double any other boat, it was based on the 4 biggest kings and we placed a close 2nd. But we've won it the last 2 years, almost entirely on Rockets.
Over the past 4 years, each winter has been a new project for the summer enjoyment: 2007 was the introduction of the 6" Magnum, same great action, PLUS a floppy tail - giving an even more realistic look. Then in 2008, the introduction of over 25 hi-lustre colours on the front half, and super glow on the back. The best of both worlds. And in 2009, I started experimenting using paint designed specifically for use on plastic, coming up with Blueberry Muffin, Wonder Bread, Dalmatian, Hog Wild and Frog.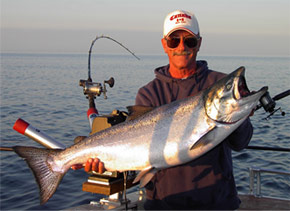 MC Rockets, which are all hand poured, contain only the highest quality plastisol, colours and glow powder available. I take a great deal of pride to provide a durable, premium quality bait that, when fished properly, will consistently outperform any other bait or lure I've ever used.
I'm a fisherman first – a bait maker second. You don't have to take my word. Talk to anyone who has used them. Or just watch some video. A picture is worth a 1000 words.
Good fishing,
Mike.